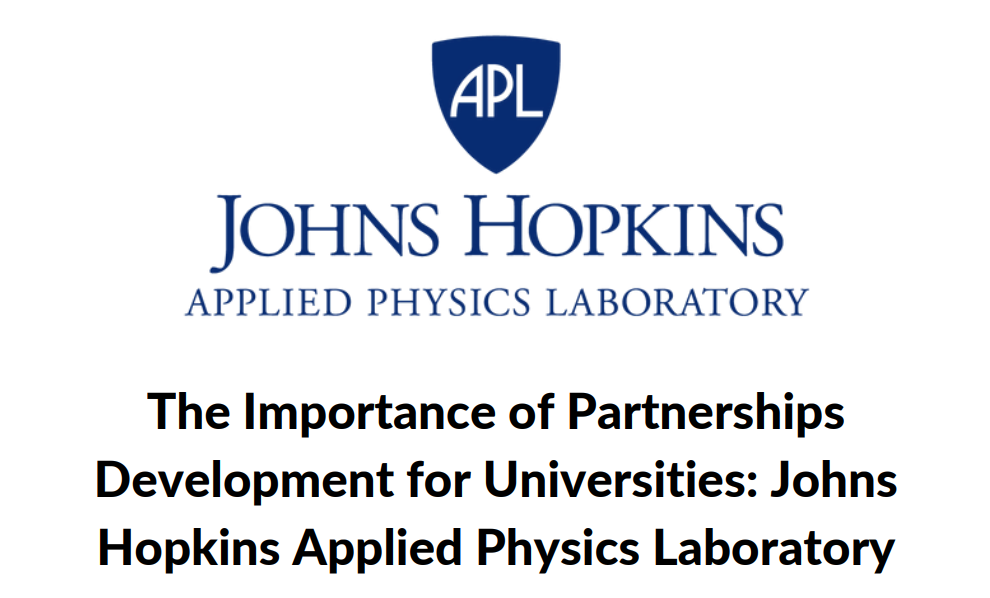 Johns Hopkins Applied Physics Laboratory (APL) is responsible for solving complex research, engineering, and analytical problems that present critical challenges to the United States of America. APL—the nation's largest university affiliated research center—provides U.S. government agencies with deep expertise in specialized fields to support national priorities and technology development programs. In order to continue to proliferate their research, APL's Technology Transfer Office has been utilizing FirstIgnite's Partnership Development Service (PDS) services in 2022 to maximize the number of corporate engagement conversations they are able to have for their technology portfolio month over month.
For technology transfer teams, the process of prospecting and communicating with contacts can be tedious, time consuming, and disorganized. FirstIgnite's PDS services allow research institutions and universities to quickly amass meetings with companies interested in their corporate engagement initiatives. Utilizing proprietary software, FirstIgnite can swiftly identify potential partnership businesses and contacts and communicate with them through targeted email marketing campaigns and LinkedIn contact.
APL was drawn to PDS for a variety of reasons following an initial demo of the service, which included a single marketing campaign that put them in touch with companies like Ball Aerospace, Siemens, and Fortinet for a virtual programmable logic controller technology. Seeing this first success, their team signed up for PDS to market multiple technologies at once, vastly increasing the number of conversations they were having per technology, all while taking away the tedious prospecting work that comprises the bulk of initial outreach to companies and other interested organizations.
Three licensing team members were able to create 20+ new industry connections by utilizing PDS for their technology portfolio in the first month alone. FirstIgnite was able to coordinate meetings with Vice Presidents of Engineering, Science and Technology Directors, Heads of Research and Development, and more; decision making titles that have the authority to continue those discussions onward to licensing deals.
These results from FirstIgnite aren't rare. Across the month of September 2022, FirstIgnite was able to coordinate upwards of 250 conversations between its university partners and businesses. By taking advantage of FirstIgnite's PDS, APL was able to see this same kind of success from their consistently marketed technology portfolio.
Connecting Industry & Academia