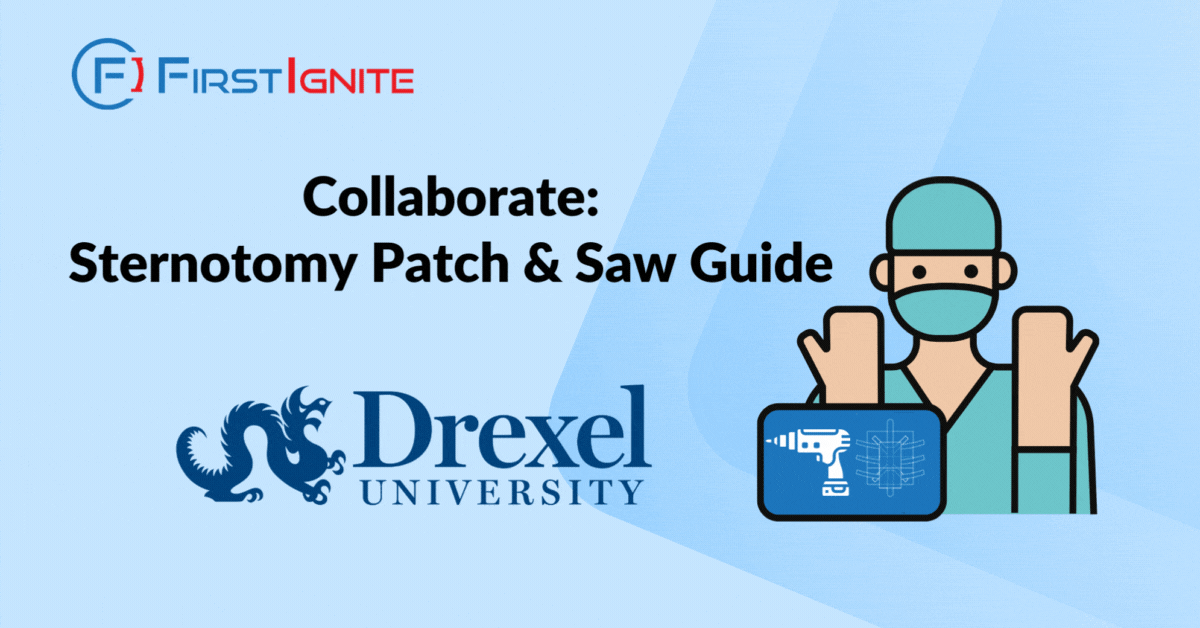 FirstIgnite is supporting the commercialization of Drexel University's new sternotomy patch & saw guide technology. This medical device concept is designed to provide cardioprotective patches and saw guides that enable faster, easier, and safer re-sternotomies. As a result, doctors can reduce difficulties and complications of future procedures for patients who require chest surgeries over their lifetime. Clinician-inspired and developed, this novel approach reduces the risk of organ or vessel damage and lowers the likelihood of blood transfusions during re-sternotomies. The firm yet flexible "butterfly" design of the device allows for better protection and surgical guidance, while easy anchoring ensures the patch stays in place over time.
This technology has applications in the medical field, including adult patients with acquired heart conditions who may require multiple surgeries over their lifetime, as well as adult and pediatric patients with congenital heart defects. The technology is particularly useful for assessing scar tissue formation between the sternum and heart more quickly and easily in repeat open chest surgery. Additionally, the technology can be applied to surgical saw accessories, surgical and orthopedic saws, and orthopedic cast improvements. In 2020, the global cardiac surgical devices market was valued at $2.2 billion and is projected to reach $3.1 billion by 2030.
Drexel University's new sternotomy patch & saw guide technology is ready for collaboration (licensing, partnerships, industry feedback, etc.). Is your company the right fit? If you'd be available for a conversation with the Drexel University team, you can schedule a time directly on their team's calendar here.