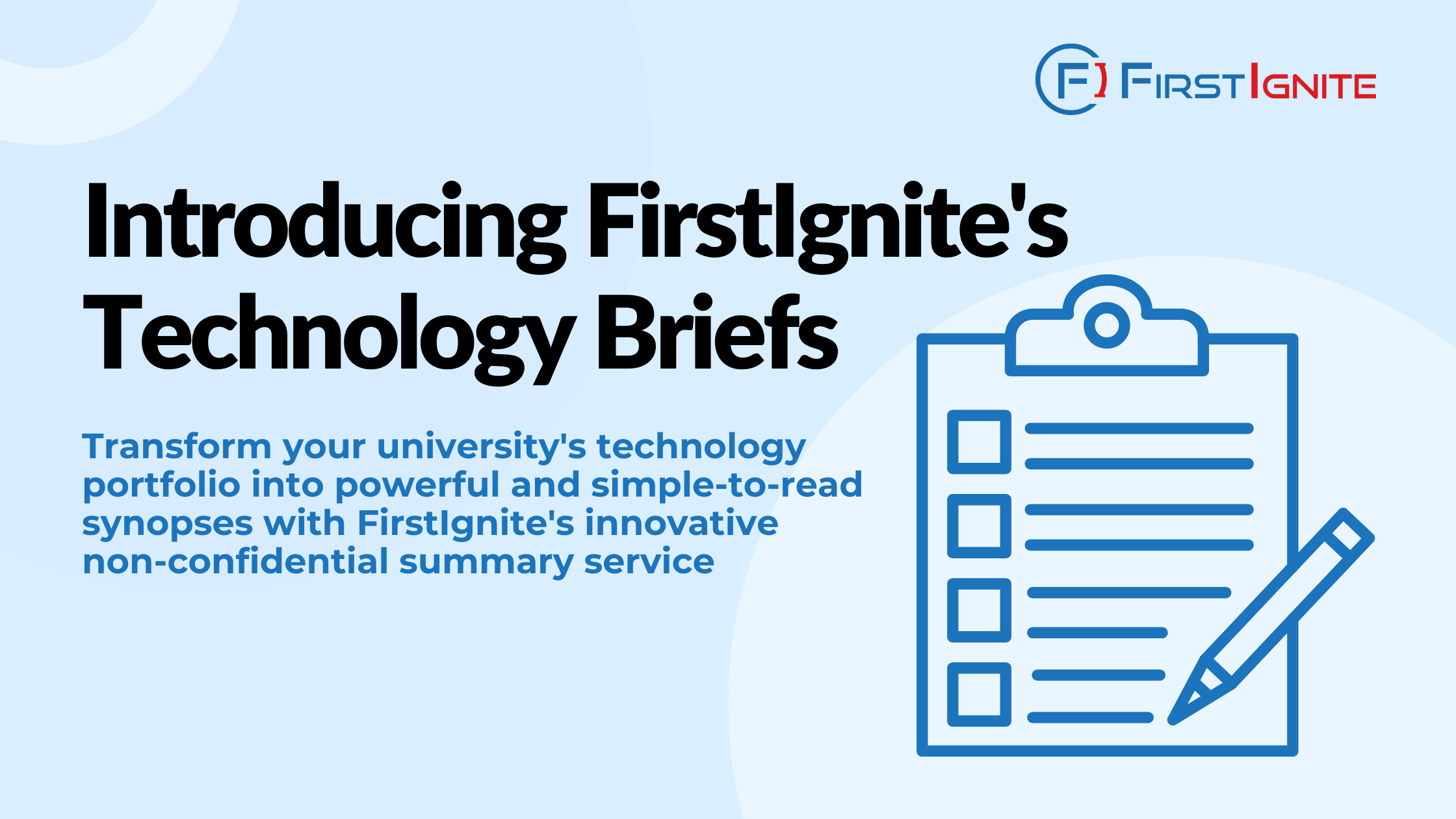 As the world of technology continues to grow exponentially, universities are at the forefront of groundbreaking research and developments. One of the challenges that these institutions face is effectively showcasing their technology portfolios to potential investors, industry partners, and the general public. That's where FirstIgnite comes in. We are excited to announce our latest service offering, Technology Briefs, designed to create powerful, simple-to-read synopses of your university's technology portfolio.
Why Technology Briefs?
Universities often have a wealth of technology innovations, but presenting them in an easy-to-understand and appealing format can be a challenge. Traditional methods of displaying technology portfolios can be overwhelming, confusing, or simply uninteresting to readers. FirstIgnite's Technology Briefs service tackles this problem by creating concise, engaging, and informative synopsis that highlight the key aspects of each technology in your portfolio.
The Benefits of FirstIgnite's Technology Briefs
1. Simplified Communication: Our Technology Briefs distill complex technologies into straightforward and easy-to-understand descriptions, allowing readers to quickly grasp the significance and potential applications of each innovation.
2. Enhanced Engagement: By presenting your university's technology portfolio in an appealing format, you'll attract the attention of potential investors, industry partners, and the public. This increased engagement can lead to new partnerships, funding opportunities, and increased visibility for your institution.
3. Customized Solutions: Our team of experts will work closely with your university to understand your specific needs and goals. We will tailor our Technology Briefs to highlight the most relevant aspects of your technology portfolio, ensuring that your target audience finds them valuable and engaging.
4. Time and Cost-Effective: By outsourcing the creation of your Technology Briefs to FirstIgnite, your university can save valuable time and resources that can be better spent on research and development.
How FirstIgnite's Technology Briefs Work
Our team of experienced technical writers and industry experts will collaborate with your university's representatives to gather information about your technology portfolio. We will then create compelling and concise synopses that highlight the most important aspects of each technology, such as potential applications, benefits, and competitive advantages.
Once your Technology Briefs are complete, your university can easily integrate them into your existing marketing materials, such as websites, brochures, and presentations. These synopses will serve as powerful tools for showcasing your university's innovations and attracting the attention of potential partners and investors.
Get Started with FirstIgnite's Technology Briefs Today
Don't let your university's groundbreaking technology innovations go unnoticed. With FirstIgnite's Technology Briefs service, you can effectively showcase your technology portfolio in a concise and engaging format that will capture the attention of your target audience. Contact us today to learn more about how FirstIgnite can help transform your university's technology portfolio and unlock new opportunities for growth and success.
Contact us today for a free sample of a technology brief!