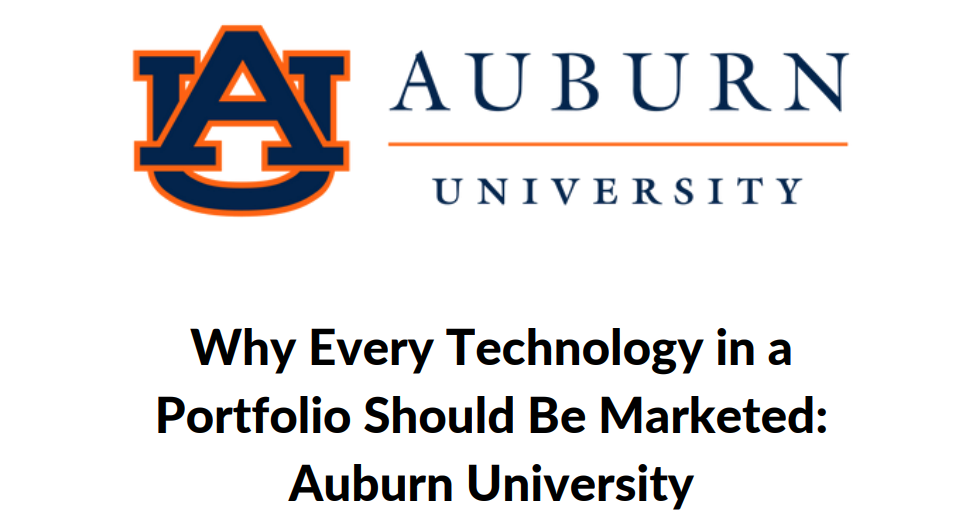 The Office of Innovation Advancement and Commercialization (IAC) at Auburn University serves as the link between the commercial marketplace and Auburn University innovations. IAC evaluates and protects Auburn University's intellectual property, seeks licensing agreements with commercial entities, and collaborates to form start-up companies to take Auburn research developments into the marketplace for the public benefit. To affect the success of their entire technology portfolio, the IAC team has partnered with FirstIgnite since 2020 to marketing a wide gamut of technologies within their purview, ensuring important feedback for research direction as well as securing potential licensing candidates.
Understanding a technology portfolio's market applicability is one of the chief challenges facing technology transfer offices. Are faculty members concentrating their research on areas companies will find attractive? Is this technology worthy of entering the patenting process? How can this professor's theoretical work translate into the real world? These are just a few of questions that technology transfer teams need to consider as they attempt to build corporate relationships. FirstIgnite's marketing process, which can be successful with any scientific medium, ensures that marketing consistently and across a portfolio will leverage the entirety of a university's research strengths to build as many long-lasting corporate connections as possible.
Auburn's IAC learned this fact throughout their relationship with FirstIgnite. While a 3D printing technology could bring in multiple meetings with interested companies, another might not get the reception from industry needed to continue to justify research investment. Through mixing up and consistently marketing across their portfolio, the IAC was able to find that one of their bio-lubricant technologies had interest from large petroleum companies like Valero, Shell, and Valvoline.
During the month of October, that same bio-lubricant technology, along with research related to a crop growth library, brought the IAC team more than 15 companies interested in seeing how licensing and collaborations could be possible. More than the meetings themselves, the individuals coming to the meetings (Executive VPs, Directors of Business Development, and CEOs) have decision making authority to move the conversations forward far past initial introductions.
FirstIgnite's marketing services utilize a proprietary software to be completely technology agnostic. This ensures that across technology portfolios, successful corporate relationships can be found, regardless of the topic. The 120+ conversations booked for technology transfer offices throughout the month of October are just one more indicator to the success of FirstIgnite's process. Auburn IAC can attest to that since 2020.